Boomers that are Social Business savvy have an advantage in business as employees or owners. Smart companies promote and recruit executives who are not just capable, knowledgeable managers but who also have proven online influence. Only a short-sighted company puts the social reputation of their company into the hands of someone under 30 just because "young people know that stuff."
Social Business strategy and implementation should be functions inside your company, well-connected to your company's top decision makers.
Social Business is broader than social media marketing. Effective social marketing programs are engaging and encourage a two way conversation with potential customers. Companies that are successful Social Businesses have created "Digital Villages" where employees collaborate internally to share information with each other as well as with customers, partners and suppliers.
The "must-have" employee of the future is a master of both internal social business and external social business. If they are representing the voice of the company externally, they must be trust-worthy. If they are interpreting the voice of the customer and bringing recommendations back to the company, they should have a strategic, knowledgeable perspective. That is why I propose that Boomers who effectively combine their company know-how with social business skills can make the best leaders.
If your company has implemented a social intranet*, you can establish yourself as a valuable contributor and expert on that platform. Like external social networks, you build influence by being helpful.
You don't need to be in the marketing department to be Social Business savvy. An engineer can contribute and support ideas cross-department within the company and build a following as an expert in his field externally.
Are you in the right place? Does your company have a culture that could create a successful Social Business? If you own the company, are you building the type of culture that can succeed in today's rapidly changing competitive environment while attracting the best employees?
Early in Socialized! How the Most Successful Businesses Harness the Power of Social, author Mark Fidelman presents a survey with a set of revealing traits about organizations that determine whether the company has the cultural infrastructure to be a Social Business. This survey can apply to any size of company.
1. What is our company's management style?
2. What are our primary cultural attributes?
3. What are our criteria for success?
4. What philosophy dominates our quality strategies?
5. What is our cultural approach to strategy?
Based on Fidelman's research, there are five primary company culture types. When you take the survey in the book, you will see which of these categories your organization fits into:
1. Innovative
2. Community
3. Execution
4. Command-and-Control
5. Adolescent
Culture types 1 and 2 are most likely to be able to execute a successful Social Business. Fidelman provides example companies for each culture type and says,"The companies that are leading in today's world recognize the benefits of an empowered workforce that feels connected to the organization." Interestingly, type 5, Adolescent describes most start-ups and some large family businesses.
It is not impossible to shift a company culture towards one that supports Social Business. Here are Fidelman's tips to accomplish that goal:
1. Let employees know it is OK to fail
2. Reinforce social media guidelines
3. Encourage transparency (discourage information hoarding)
4. Hire great people, look for a good cultural fit
5. Create a cultural ambassador program to help employees embrace Social Business
6. Let ideas float from the bottom to the top
7. Eliminate the "not invented here" mentality
8. Think globally, act locally
9. Have a clear vision of social business
10.Build in incentives for information sharing
I loved Fidelman's suggestion to use a Trojan Horse approach to stealthily introduce internal Social Business to a company. This type of change will most certainly meet with resistance from some. (In particular, middle managers are threatened by the Social Business model.) Fidelman recommends starting with one project with a group likely to succeed.
I recommend that you read Socialized! for the full playbook, many concrete examples and illustrations, and a guide to being a social executive.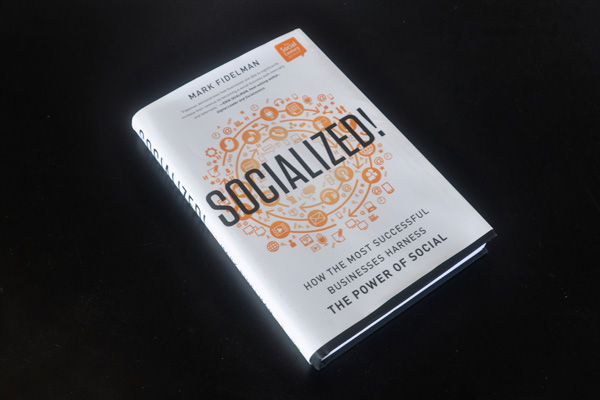 Though Dell and Starbucks have very different products, they are good examples of companies already taking advantage of Social Business both internally and externally.
I wrote earlier about how Starbucks is a company that has taken Social Business to heart.
Back in March 2010, I had the pleasure of interviewing Lionel Machaca, chief blogger for Dell. We discussed how they manage their Social Business efforts. Dell's enthusiasm to connect employees to customers has become more formalized but remains an important part of their culture. Susan Beebe, Dell's chief listener more recently told Fidelman "We've got 10,000 people trained and certified in social media that can engage Dell customers.
Mark Fidelman writes for Forbes and is the Conference Director for BusinessNext Social in Las Vegas January 6-8. I am pleased to be included as a speaker at the conference. Please join us or purchase a virtual ticket to dive further into the Social Business discussion.
*Boomer Tech Talk Guide to Technical Words Used in this Article:
Social Intranet: Fidelman mentions: IBM (Connections), Salesforce Chatter, Microsoft (SharePoint with News-Gator), Yammer (now part of Microsoft), Jive Software, ThoughtFarmer, and PBworks. I would add to that Cisco WebEx Social.
Social Business: Social Business is more than social media marketing for business. Sandy Carter of IBM says, "A Social Business is one who embeds social in all their processes, connecting people to people, people to information, and data to insight…Social Media primarily focuses on marketing and public relations."